About Us
We, a team of corporate professionals, have been working with Fortune 500 companies for almost three decades now. We have worked with the leadership teams of these companies to drive strategy, strategy execution, leadership and innovation - the last though with limited success.
Coming from such a background of having assisted companies turn around their fortunes, we were disturbed at our inability to bolster progress our own localities and, subsequently, country.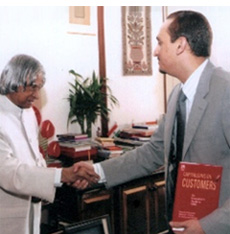 While the idea of Medici was born in 2003, it gained acceptance among the top polity with our ex-President, Hon'ble Late Dr APJ Abdul Kalam himself recommending us to the Ministry of Power, under the aegis of Late PM Sayeed under UPA1. Unfortunately, due to the untimely demise of the latter in South Korea, the conversations did not fructify into a concrete roadmap. Now, once again, we have rekindled the flame that we believe will transform the way our societies are managed.

We are a not-for-profit organization. Our dream is to bring about social transformation in India through effective implementation of world-class management techniques. Building leaders at every level, citizen-centered administrative reform and participative governance are the means we intend to cultivate to achieve this end.
We are passionate about the power of Aspiration, Focus, Innovation and Leadership, and have the expertise to harness these to realize our dream.
The Medici Institute, a not-for-profit enterprise, is backed by more than two decades of experience in research, application and execution of best practices of management at leading conglomerates across the globe. The company has cultivated partnerships with thought leaders the world-over.